Global Bitcoin ATM Installations Sees a Rise in May-June Month
After five months of a slowdown in BTC ATM installations, June is seeing a swift recovery in the global Bitcoin ATM Installation according to reports by Coin ATM Radar Report.
Since the early months of 2022, Bitcoin (BTC) ATM installations had been steadily declining, with only 202 new BTC ATM installations witnessed in May – the lowest number since 2019, as per Cointelegraph.
But it looks like the figures are taking fuel now; according to blockchain.com, the speed of Bitcoin ATM installations is a bit higher than in April (0.9%). In May it was 2.2%.
Figure 1 – Market Statistics of 2022 Bitcoin Exchange Price
Buy Bitcoin via FCA Regulated eToro Now
Your capital is at risk.
CoinATMRadar Report Records a Global High
According to Coin ATM Radar, there has been a noticeable increase in the number of Bitcoin ATMs deployed in June, with 817 being placed in only the first few days.
According to the website's data, there are 38,115 installed ATMs. If we compare the same to the previous month, there were 890 ATMs installed overall in May and 1,357 in April. Over 882 Bitcoin ATMs have already been added in the first two weeks of June alone.
This has come as a swift U-Turn as based on the various data released by coinatmradar.com, the Bitcoin (BTC) ATM installations had been steadily declining since January, which had eventually fallen by 89.75 per cent from the 1,971 new installations in December 2021.

Figure 2 – Crypto ATM Installation Growth Statistics from Coinatmradar.com
What Caused the Bitcoin ATM Crash at First Place?
Geopolitical tensions worldwide, ambiguous or anti-crypto policies, market saturation, and the commercial impact of the ongoing coronavirus pandemic are some of the estimated reasons for the delay of crypto ATM installations.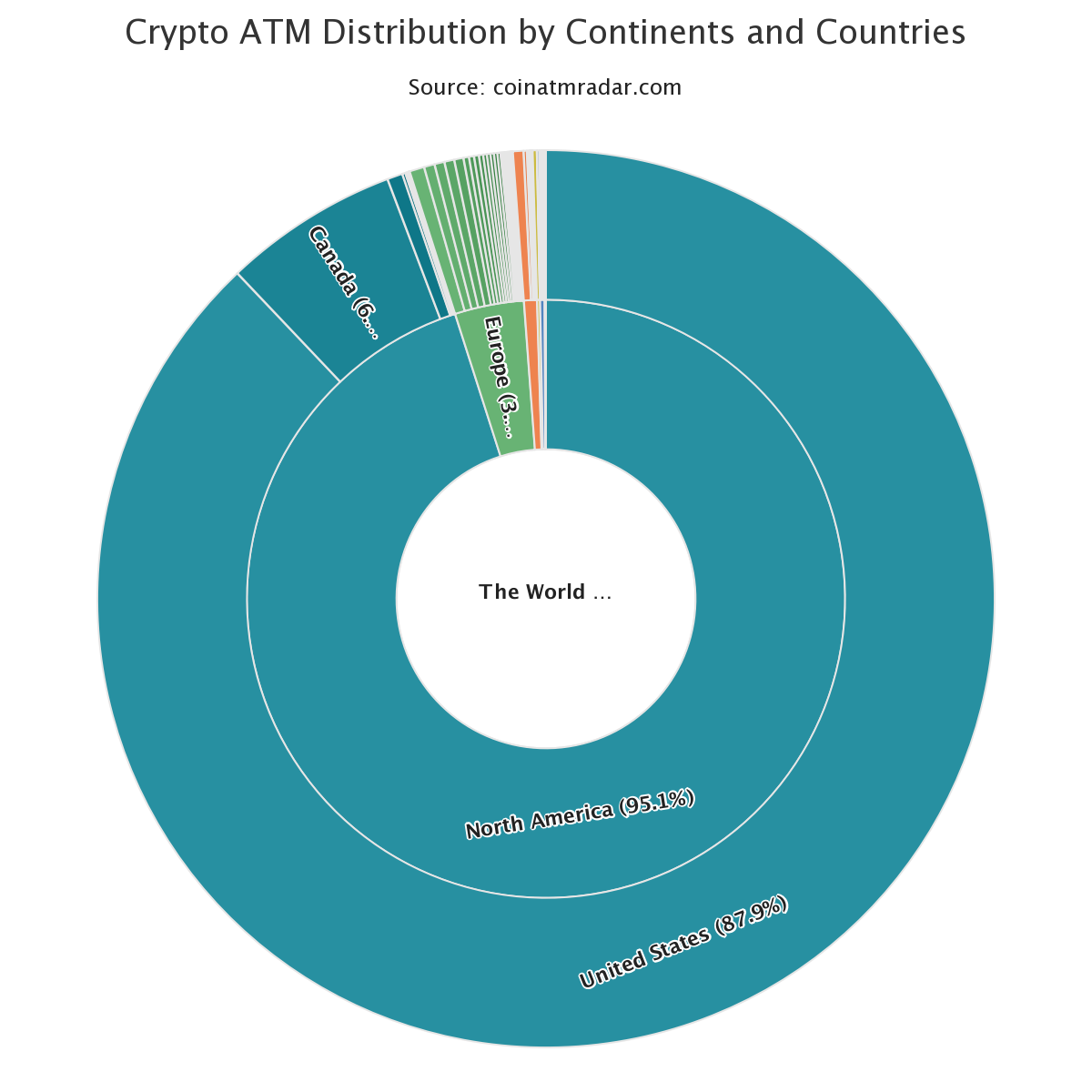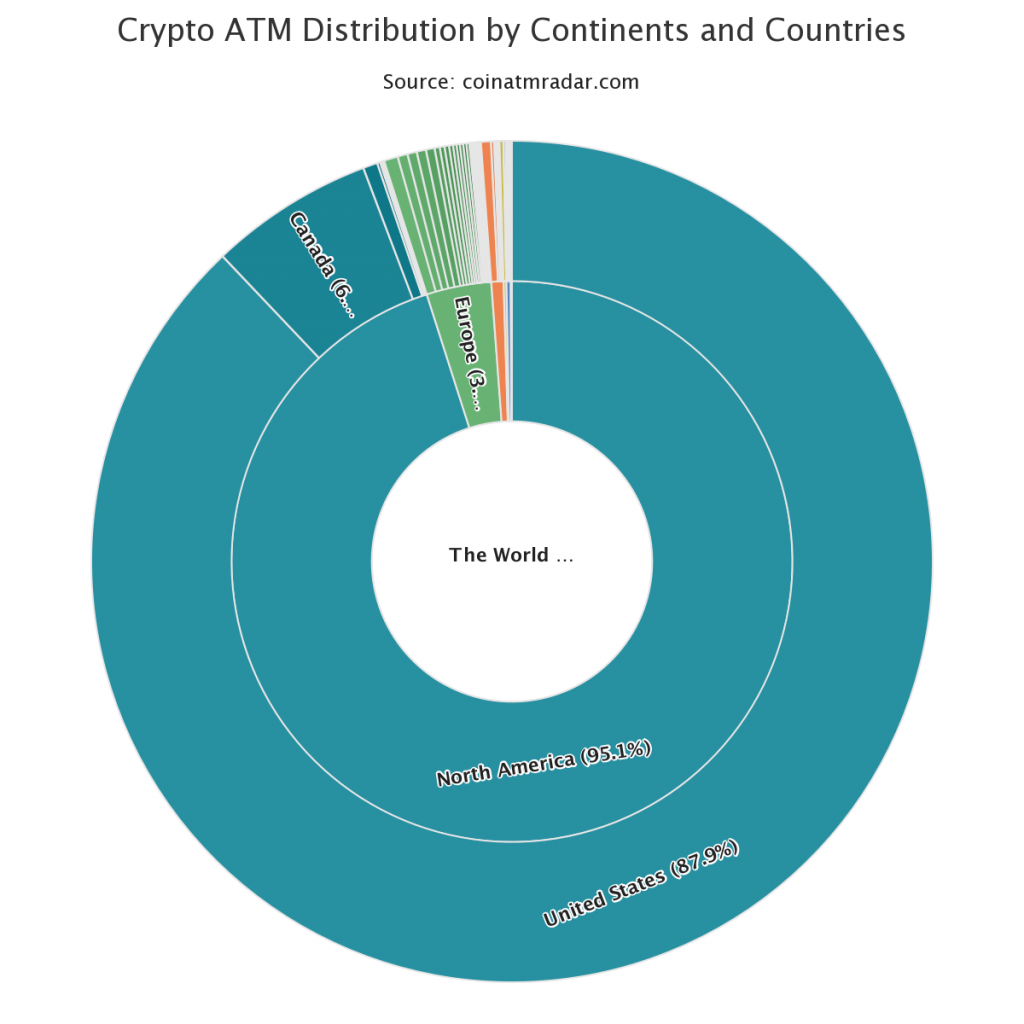 Figure 3 – Crypto ATM Distribution by Continents and Countries, Source Coinatmradar.com
As per Coin ATM Radar, almost 23 Bitcoin ATMs are installed daily worldwide. Earlier, in December 2021, approximately 1,970 crypto ATMs were installed globally. However, in these last six months, the number of newer machines cropping up hit a stagnant spot.
Visit eToro to Buy Bitcoin at Low Fees
Your capital is at risk.
Reason Behind the Expansion of Bitcoin ATMs
It is not a difficult task to find a Bitcoin ATM nowadays. They are readily available in most gas stations and various stores across the country.

According to Radar's research, the United States alone is home to 87.9% of the world's 37,826 crypto ATMs, with North America making 95.1% of the whole crypto ATM market. Europe has 1,419 ATMs, accounting for 3.8 per cent of all ATM installations worldwide.
Just a few years ago, this was not the case. Indeed, over the last two years, the number of Bitcoin ATMs installed has increased dramatically. According to CoinAtmRadar, the United States now has over 32,000 Bitcoin ATMs. Compare this to 2020, when there were a little over 4,000.
While some say the current trend is due to the high value of Bitcoin as an investment combined with the current economic climate, we think there is more. This rate of expansion in the Bitcoin ATM industry is driven by many factors, not just the desirability or lack thereof of Bitcoin on any particular day.
One reason for the fast growth curve might be the absence of precise regulation in the nascent crypto and blockchain area, both at the federal and state levels. Many Bitcoin ATM operators are not following a sound and systematic compliance programme to safeguard clients and the general public from fraud and other scams due to a lack of awareness and clarity of the requirements.
While a few Bitcoin ATM operators go above and above to fulfil the verification requirement of the customer for fraud protection and anti-money laundering (AML) processes, others in the cash-to-crypto market are unconcerned about bad actors pushing the volume to their ATMs. This allows various Bitcoin ATM companies to profit from a considerable volume of illegal and fraudulent transactions in many circumstances.
Buy Bitcoin on Dip Now
Your capital is at risk.
FBI Warns Against 'Increased' Crypto ATM and QR Code Fraud
Across the news, an alarming number of fraud victims are scammed on a regular basis at Bitcoin ATMs across the country due to the absence of regulation and established enforcement processes. Unfortunately, this generates substantial short-term profits for Bitcoin ATMs, pushing operators to add more kiosk sites and driving up costs for shops that charge rent for hosting kiosks.
Given the amount of operating Bitcoin ATMs in the United States, and the FBI's warning against cybercriminals utilising Bitcoin ATMs and QR codes to deceive unwary individuals, one can expect federal and state regulators to become more involved in the market in the coming months.
Buy Cryptocurrencies on eToro Now
Your capital is at risk.
This could decrease the number of kiosk sites around the country, as some inept Bitcoin ATM operators may be obliged to comply with a compliance and fraud prevention standard they cannot meet, forcing them to close. This would be great news for consumers and the numerous Bitcoin ATM operators who put customers ahead of short-term profits.
Read More:
Lucky Block – Our Recommended Crypto of 2022
New Crypto Games Platform
Featured in Forbes, Nasdaq.com, Yahoo Finance
LBLOCK Token Up 1000%+ From Presale
Listed on Pancakeswap, LBank
Free Tickets to Jackpot Prize Draws for Holders
Passive Income Rewards – Play to Earn Utility
10,000 NFTs Minted in 2022 – Now on NFTLaunchpad.com
$1 Million NFT Jackpot in May 2022
Worldwide Decentralized Competitions
Cryptoassets are a highly volatile unregulated investment product. No UK or EU investor protection.